Finally Cracked: Launch a Fully Fledged SEO Biz With This Simple Yet Powerful Cloud Based App...
 The best part? You don't even have to know anything about SEO to be making huge sales with this
Page one rankings in no time
Make $500 - $1000 in pure profit on every sale
It's all cloud based, nothing to install, works on any device (PC / MAC)
HURRY! Early Bird Discount Ends In...
Here's why people fall in love with our software:
Now it's easier than ever before for anyone - YES even complete newbies - to launch their very own fully-fledged online business with the push of a button
Grab One Stop SEO and tap into the million dollar services that companies will be willing to pay you thousands of dollars for it!
It only takes 3 simple steps
1. Login into the software

2. The Software Does all the hard work for you

3. Collect the money
Hi, my name is Luan Henrique and I'm talking here to you behalf of my partners Radu and Karthick.
I started two years ago with lack of experience, ranking little review sites and collecting the money. But, this never got me the results I want (huge money in the pocket). Probably the results you're waiting for you now.
I tried everything, affiliate marketing, email marketing, course after course but I knew it, I had to have my own product or service to tap into the big bucks.
There's where I meet product launch.
Has been hard to been where I am right now, will take you months or even years of hard work.
There's where One Stop SEO was born:
To let anyone with no experience to launch a successful online business in seconds.
It's time to tap in the SEO Business Model
One of the biggest niches and most expensive ones, where you can sell your services for hundreds or thousands of dollars every single time!
Now you can get anyone to the first page of Google, generate traffic and sales, selling services that will be done for you by our software!
This groundbreaking software comes fully loaded with features that allow you to launch an online business in 60 seconds from scratch
Just plug and play – start to make it profitable
Fully Loaded With 44 Features You Can Plug, Play And Sell as a Service Today
Website Auditor

Quickly review any website and generate beautiful reports about SEO – that way you can sell more of your services.

Social Stats Spy Tool

Get detailed Social Media Sharing Analysis and help anyone to grow their viral sharing!

Visitor Analytics

Watch website visitor in real time. Easier than google analytics.

Keyword Research Tool

Instantly finds hot keywords that is easy and powerful to rank for. It's called buyer keywords and generate sales very often!

Article Rewriter

Rewrite different articles and make them unique to use it on your own site. Remember, Google loves unique content. And you can get unlimited unique content from this tool.

Article Spinner PRO

From this Pro version you can spin content for the following languages: English, Dutch, French, Spanish, Germany, Turkish, and Indonesian.

Backlink Maker

Bored of manually creating backlinks to your website. The Backlink Maker will handle that for you. Set it and forget it.

Search Engine Spider Simulator

This tool allows you to simulate that spider/program to see how it navigates your website. The smoother and faster it is, the better.

Text To Speech Premiere Technology

Add the text, allow our software to convert into audio and instantly download into mp3 file – want to have your own voiceover? Here we go.

Keyword Density Checker

It is one of the ways search engines determine where your website should rank for a particular keyword. Check how many keyword density you has.

Meta Tag Generator

Google still checks the meta tags on every site. Make sure you have your keywords and LSI keywords in your meta tags with the help of the Meta Tags Generator to research your competitor website.

Backlinks Extractor

Use these tools to spy on your competitors backlinks and get a useful insights into their link building activities. One of the best ways to rank in Google!

XML Sitemap Generator

The XML sitemap is like a map that allows the search engine's spiders to navigate through your site. You can create it in seconds.

Robots.txt Generator

This is the file that lets search engines know how to crawl your website. You can create within few clicks!

Online Ping Website Tool

This gives the spiders a signal to crawl your site faster and know what has been updated. Pretty important when it comes to SEO.

Blacklist Lookup

There are websites that get banned or blacklisted on the internet. This tool checks your website in the blacklist against 100 DNS based email blacklists.
And more 28 features that you'll absolutely LOVE!
Watch a demo video of One Stop SEO!
Here's the results we got selling this hot services!
People Are Taking HUGE Advantage By Selling These Services On Sites Like Fiverr, Upwork, Freelancer & Many More…
And Now You Can Have One Stop SEO Doing All The Hard Work For You
You can have zero knowledge about SEO, One Stop SEO does all the hard work for you – meaning you can get the service done in seconds and just collect the money after that!
May you don't know how to sell SEO services or how to start? Don't worry at all – you'll get this special bonus with your order: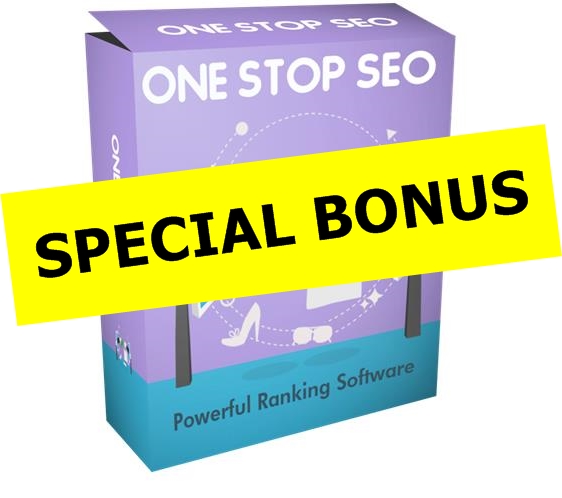 $100 Per Day SEO Biz Blueprint
Let us show you how to get your first sale with our cloud based app and how to scale it fast for $100, $200, $300 daily payments in no time. We'll show you multiple platforms, multiple ways to do it and how easy it is to charge a hundred or thousands of dollars by selling these premium services that no one have the opportunity to offer!
Get One Stop SEO and start to profit today
30 Days Money Back Guarantee
You're fully protected by our 100% 30 days money back guarantee, if you feel this is not for you or you don't LOVE it, you can get all your money back!
P.S. I know can be hard to make a decision but you have only this chance, make sure you grab your copy right now 100% risk free, all the launch week bonuses and huge discount.
P.S.² No reason to be scared, you have 30 days money back guarantee, if this doesn't works for you, just send an email to our premium support and get all your money back.
Can I use it to rank my own websites?

Yes, for sure, we used our cloud based app to rank multiple websites to the first page of Google in no time, in fact, this is the best software available on the market right now and is designed to deliver you results fast! (The way we're getting day in, day out!)

What is the difference of Personal License & Commercial License?

It's simple, if you want to use our software just for your site and to get page one rankings in no time, you can get a personal license. Now if you want to use our software to rank other people sites and charge for your services you should go with the commercial license. In fact the commercial is better than personal. So it's best to get the commercial.

I need to install something on my computer?

No, One Stop SEO works from any device, including mobile. Is all hosted on the cloud for you, meaning you can use it from any browser (Google Chrome, Mozzila, Internet Explorer, Safari, etc)!

Do you offer training and/or support for this product?

Yes, you have our full support and training on how to use and get the best results, plus a bonus where we'll teach you how to get your first $100 sale!
One Stop SEO - All Rights Reserved!